7zip Colorix is a alternative installer for 7-Zip compression utility that includes the Colorix Icon pack instead of the regular icons.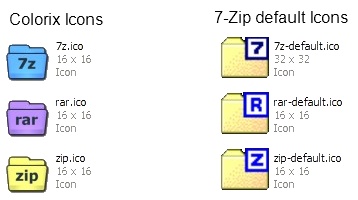 I didn't like the old style Win9x icons that 7-Zip used (and uses) so I made the Colorix icons based on original artwork from Greven, Titanium Folder Set I with his permission and blessing :). They were made to be simple and allow quick archive type recognition trough the use of different color (hence the colorix name).
A big thanks to Greven and my friends Newtomic, Sylver and Zero for this and that, during the making of these icons (one should never forget his friends).
Latest Changes (2009-01-17):
Added missing icons, all non compressed formats are white (cheap i know), xar is red like rpm and lzma is same color as 7z.
Downloads:
Download 7-Zip 4.57 Colorix Edition
Download 7-Zip Colorix Icons Only
Download Older Versions…